Discount for yoga teachers on all the Yogamatata shop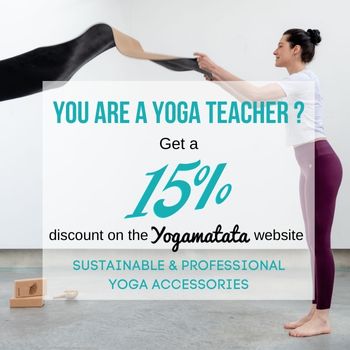 You teach yoga and wish to order some of our yoga accessories ?
We know that being a yoga teacher is often a precarious situation.
However, we would like to introduce you to our products, because who better than you to appreciate the quality? So we offer a 15% discount to yoga teachers!
You just have to fill in the form below to get your discount code very quickly.
This discount works for orders placed on our website directly. If you want to order mats to equip your studio, contact us on this page, we will propose you a dedicated offer!
If you would like to get a coupon code to share with your students, please let us know in the form! We offer promo codes with or without affiliation. You can find out more about our affiliate program here! It allows you to get commissions on all sales made using your coupon code. Some extra money well deserved for you helping us promote Yogamatata !


If you want to buy several mats or make a group purchase, you can either contact us here or place an order with our professional partners for professionals : 
– Ankorstore (use promo code LIFT-FSRAAZUG  for a special reduction)
– Faire (use this link for special offers)