Description
I am a foldable yoga mat, ideal for travel or simply as a yoga towel ! I measure 199 cm * 63 cm * 1.5 mm and I weigh 1.2 kg. Extra long and extra wide, I am ideal for tall people or anyone who enjoys having a wide space for practicing yoga !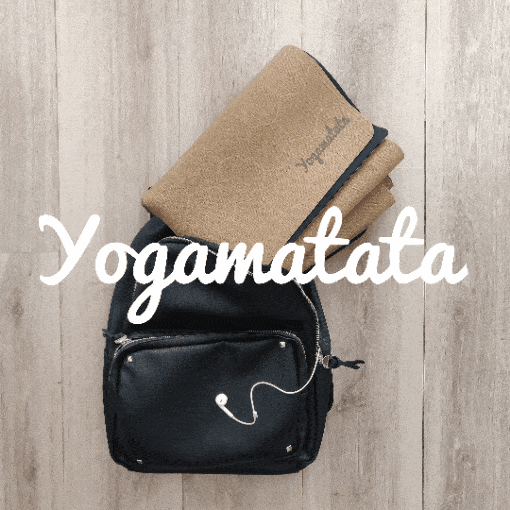 I am light and foldable: you can easily slip me in your suitcase or your sports bag and carry me anywhere super easily !
I am perfect to travel : as I'm very light, I take little space ! I fit in hand luggage on the plane, I am the best yoga mat to practice during your vacations !
I am also adapted for studio classes: I can be used as a grippy mat (unlike yoga towels, I don't slip!) or as a regular mat for occasional practice.
I can be folded in a suitcase for a trip: when you arrive, think to unfold me and keep me rolled up for the duration of your stay ! 
And if you carry me in your handbag during the day, remember to unfold me on your way home and roll me up to avoid the folds to be imprinted in the cork
I'm almost 2m long, so I'm definitely the best long yoga mat for people who are taller than 6ft ! I am also wider than a regular mat. 
As a wide yoga mat, I'm a great choice for both men and women who want to have a wide space when practicing yoga at home or in the studio (no more neighbor's feet in your nose!). I can be used as a yoga mat cover, just as you would do with a yoga towel.
A super grippy yoga mat
I am a professional quality extra long travel mat, perfectly adapted to everyone : from the beginners to more experienced yogis ! My cork surface is good for sweat, hands down. 🙂 
I don't bounce or fold : I stay flat on the floor during your practice ! Yes, I'm not just a pretty foldable and thin yoga mat : I am a professional and technical XL foldable yoga mattress. I'm a big yoga mat giving you a large, wide and super flat space to practice !
My cork surface is naturally non-slip thanks to the natural humidity of your hands and feet. The more you sweat, the more I stick : I'm a great hot yoga mat ! If you have dry hands, I am not the ideal mat for you. But if you have sweaty hands, I'm simply your ideal travel long yoga mat !
In addition to being non-slip, my cork surface is naturally anti-bacterial which helps me avoid developing a bad smell. But it's not a reason to forget me in your bag : after every travel, unfold be and keep me rolled to improve my duration overtime !
How do I clean my yoga mat?
I might be a high quality travel yoga mat, still require regular maintenance, like every yoga mat ! When you feel the need, spray me with a mix made of half water and half white vinegar (+ possibly a few drops of organic fine lavender essential oil), and gently wipe my cork surface with a soft sponge, without rubbing hard to avoid damaging it, and let me dry flat. I'll be all clean again! Be careful, I am not machine washable, it would damage me! Cork is a natural material that develops a natural patina over time. To observe a light discoloration or wear of the cork on the points most in contact with your hands and your feet is normal and will give me all my charm of object used with love, and that does not deteriorate my grip in any way!
An ecological wide yoga mat
I am delivered in a packaging designed to limit waste and the use of plastic: I am wrapped in a seeded paper containing seeds of honey flowers. Once your mat is unpacked, plant the packaging in the ground, it will bloom! I am kept closed by a link in upcycled fabric and sent in a reused cardboard box. In the same goal of minimalism, I am delivered without a carrying strap, thus leaving you the choice to acquire one or not.
The inks of the patterns of the travel yoga mat and of the seeded paper are water-based.
This XL yoga mat is designed in France with love and responsibly manufactured in China. I am not trying to make you believe that I am made in France : it is unfortunately impossible, otherwise I would be.
For each yoga mat purchased, a donation of 2€ is made to the association "Mécènes et Parrains d'Abeilles" to sow 3 to 4m2 of melliferous flowers in the French agricultural wastelands.
We accept returns within 30 days.
We can deliver your order everywhere in the European Union ! Free delivery in France.